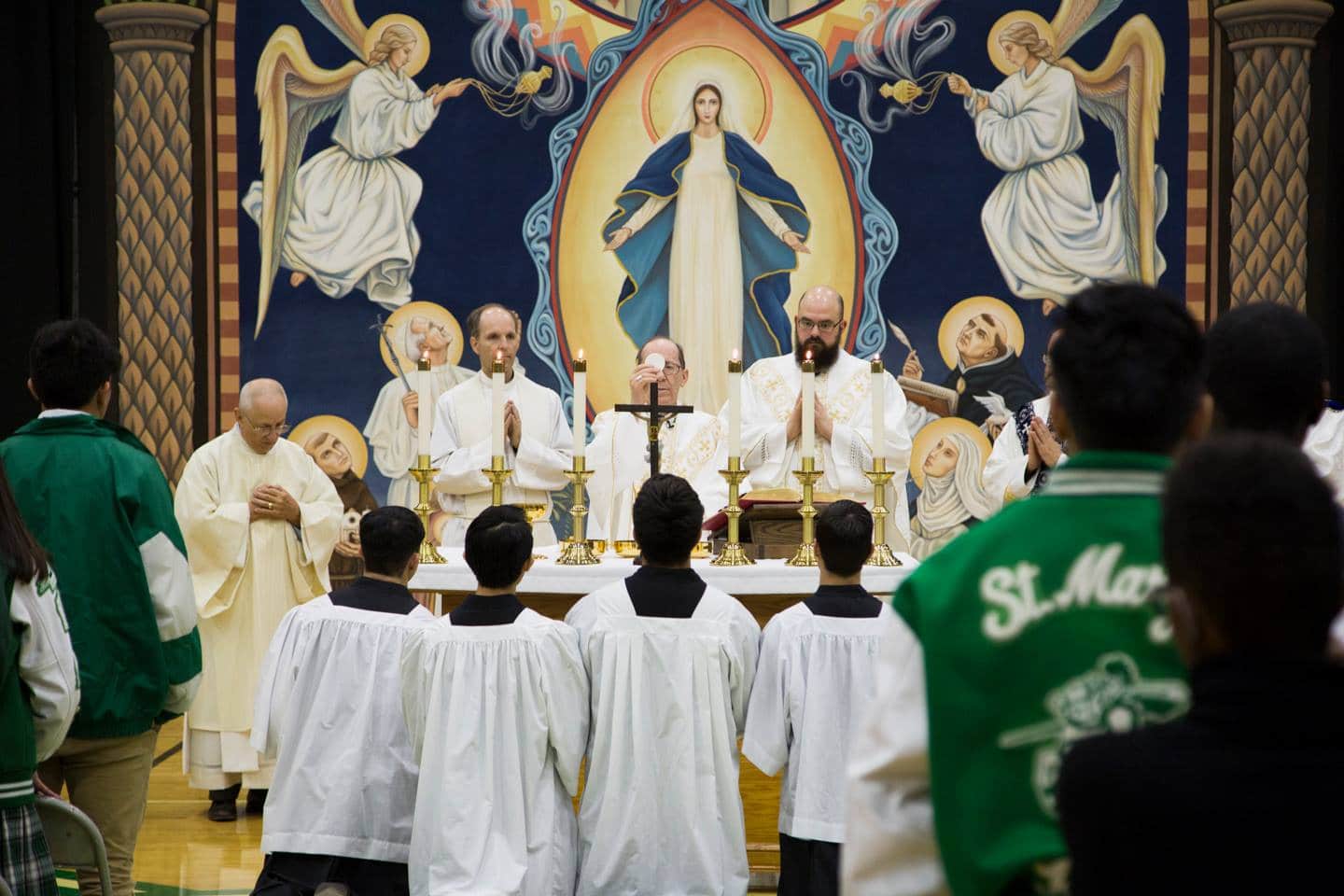 Experience the difference
Our tours and special events let you experience life as a Saint Mary's Knight
Visit Saint Mary's
Our mission is to provide students with a liberal arts education that forms virtuous young men and women who know the Truth and love the Good.  This type of education and formation in virtue prepares students for more than just the college and career of their choice —
it prepares them for  lives of happiness.
Knight for a Day—Shadow Days
Shadow Days are a fun way for students to spend a day at Saint Mary's, going to class and getting a real taste of high school life! Our shadowing program is open to interested students grades 8—11. We also encourage parents and guardians to stay for coffee. Please click on the link below to schedule your visit.
Campus Tour
Join us for a tour of Saint Mary's Catholic High School. Hear from our staff and see where your child will learn, grow, and develop for the next four years! Prospective students are also welcome to attend. If you'd like to schedule a tour outside of the scheduled times, please contact Jacquie Kennedy at jkennedy@smknights.org.
Information Knight
Join us for a "knight" of information! We invite you to come and socialize with other parents, meet our administrators, learn about our curriculum, and take a tour of the campus. In addition, you will have the opportunity to find out how to apply for financial aid and receive on-site help with the application process.
8th Grade Day
If you are an eighth grader, you are invited to join us to see if you have what it takes to be a Knight!
Saint Mary's 8th Grade Days are a fun way to see the campus, interact with current students, and truly get a feel for the student life and school spirit at Saint Mary's.
November 19, 2021
** 8th Grade Day has reached maximum capacity **
To be put on the waitlist, please click on the link below:
8th Grade Day Waitlist
For more information on how you can learn more about Saint Mary's please contact Jacquie Kennedy at
jkennedy@smknights.org.
Para asistencia en español comunícate con Jacquie Kennedy, Directora de Reclutamiento, a jkennedy@smknights.org o al (602) 251-2513
Open House
Our "Open House" is an opportunity for families who are beginning to make plans for high school to visit Saint Mary's campus. You will hear from the President, Principal, and from students who will share their Saint Mary's experience.
November 7, 2021
Sign Up
School Visit
If your school is interested in a Saint Mary's representative coming out to visit and share what Saint Mary's has to offer, please contact Jacqueline Kennedy, Director of Recruitment at 602-251-2513 or jkennedy@smknights.org.